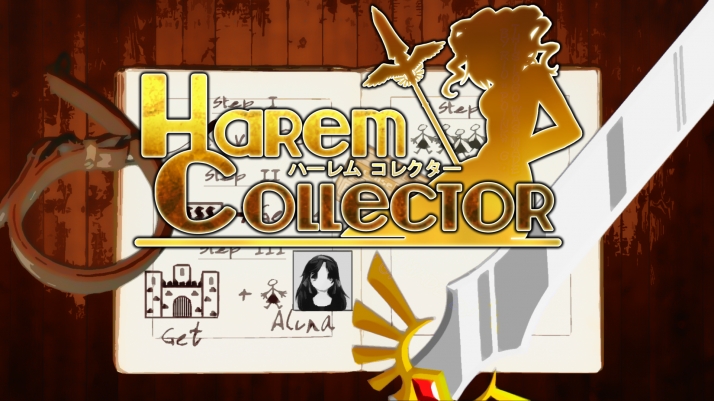 Harem Collector
A downloadable game for Windows
What is Harem Collector?
Harem Collector is an early access, open-world hentai RPG where you play as a destitute adventurer who is nonetheless convinced that he is the greatest Hero of the land. After experiencing an unexpected windfall in the form of a huge mansion, he embarks on a quest to gather a harem of 151 girls to attend to his needs. Soon, he gets involved in an tangle of intertwining plots, fighting off demonic cults, foreign invaders, ancient curses, rogue slavers, and a traitor within his own harem! Will our hero be able to triumph over these adversaries and complete his Harem collection?

Features (Final Version)
35 collectible harem girls representing a wide variety of personalities, archetypes, and fetishes.
Over 100 sex scenes.
15 recruit-able party members.
Large, immersive, interactive world.
Challenging combat that rewards careful thinking and planning.
Limited (and entirely optional) grinding
5 customizable player houses.
92 quests not including mini-quests and random quests.
60 investment opportunities that let you build a financial empire.
Current Progress
Harem Collector is currently about halfway through it's development cycle. We try to update the game every two months (every month for backers), so there is constantly new content to explore.
While most of the hentai artwork in the game is currently done using 3D Custom Girl, we're in the process of replacing all the sex scene images with 2D art

Reviews
Lewd Look: Harem Collector on LewdGame

What is Bad Kitty Games?
Bad Kitty Games is dedicated to creating fun, unique erotic games for hentai enthusiasts to play, enjoy, and get off with. Harem Collector is only our first project, and we look forward to bringing to life other fantasies for you to enjoy in the future

Meet the Team
NoMoshing is in charge of development, writing, dialogues, editing, basically 90% of all the work that goes into our games. He is also President of Bad Kitty Games. 2095Conash is our resident coder!
Kumiho is the pixel artist behind all our custom icons, sprites and tiles!
Yuno Rein is the current artist working with the team, who is working on the games hentai scenes and face sets!
Omnibomb is our current Community Manager!
DrawingNeko is a contributing artist who did some of the Therese and Doralice hentai CGs!
GusBus is the artist behind some of the Diadira CGs and some of the enemy battle sprites!
SacB0y and Jingzy are the artists behind the Nerys, Yamamaya, Alina, Larelle and many other scenes!
YukoValis contributed sprite art is currently one of our Discord and Forum moderators!
Gurotaku made all the 3D HCG. Even though we're removing them from the game, we wouldn't be where we are without him!
Kakurine, Daishi, and Eight88 contributing some of the sex scene text shown in the game.
Clara Middleton is the game's composer, as well as the writer behind "Rescue Me"!"
Allie is the lovely lady who provided vocals on "Rescue Me"!
How to Contact and Support us
Feel free to leave questions or comments on this page, the the wiki, the discord, or the forums and I will do my best to respond to you as soon as I can! Or if you wish to contact NoMoshing directly, check out our contact page over on our official site!
If you enjoy the game and wish to support us, please consider contributing to our Patreon page!
| | |
| --- | --- |
| Updated | 2 days ago |
| Status | In development |
| Platforms | Windows |
| Rating | |
| Author | Bad_Kitty_Games |
| Genre | Role Playing |
| Made with | RPG Maker |
| Tags | Dark Humor, Fantasy, NSFW, Open World, RPG Maker, Turn-Based Combat |
| Average session | Days or more |
| Languages | English |
| Inputs | Keyboard |
| Links | Homepage, Paetron, Wiki, Community, Dev Blog, Twitter |
Install instructions
For the exe files, double click it to have it install the game onto your computer. Once done, open the 'Harem Collector' folder where you installed it and double click the 'Game' file with a dragon head next to it to open up the game. To transfer saves from an older version copy the replay, Misc_Data, and any save files (such as save01, save 14, etc.) from your old version and paste them into your new version.

For the zip files you must have downloaded and extracted an exe file of no later than 1 version below (so for a 0.28.x zip you must have a 0.27.x or later version), after that download and extract the zip file, you will then need to copy all the files in the new folder into your existing Harem Collector folder to update the game.